Victoria House is a historic building situated in Taunton, Somerset and formerly housed the Van Heusen shirt and garment factory. Today, the building houses a number of diverse companies and businesses ranging from web developers and charities to health specialists and outdoor equipment suppliers.
It's often a busy hub, in and around the building, so it seemed fitting that 'The Hub Cafe' recently opened up to cater for meetings, networkers, visitors and those simply passing by in need of something to eat or drink.
The owner of The Hub Café contacted us with a brief in the early stages;
"to create a professional yet colourful environment for employees, visitors and clients of the businesses of Victoria House" - Colin Barrel.
A bespoke seating solution was required to guide customers and visitors to the servery and then into the loose seating area. This was achieved by creating an extra high-backed, modular, L-shaped sofa which created the desired pathway. This solution also works as an acoustic barrier from the servery noise in the café area. We also supplied Tritium Tub chairs which were used on the seated side and creates a more colourful and vibrant area.
A touchdown area where people can meet or work from their laptops, was also part of the brief. Avalon custom bench dining sets with cube stools were specified for this and have already been utilised for meetings and agile working.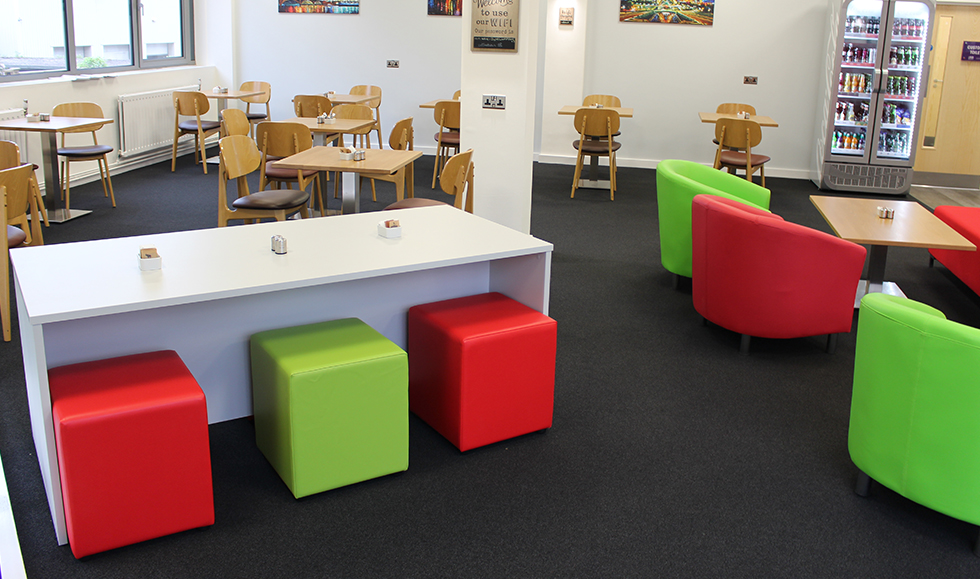 The remaining café furniture offers a warm, natural look, with mid-century style wooden framed dining chairs matching both wooden table tops and bar stools. We were also able to supply the bar stools at a specific height, as the fixed bar counters were already in place, making sure there was sufficient leg room for those sitting at bar height.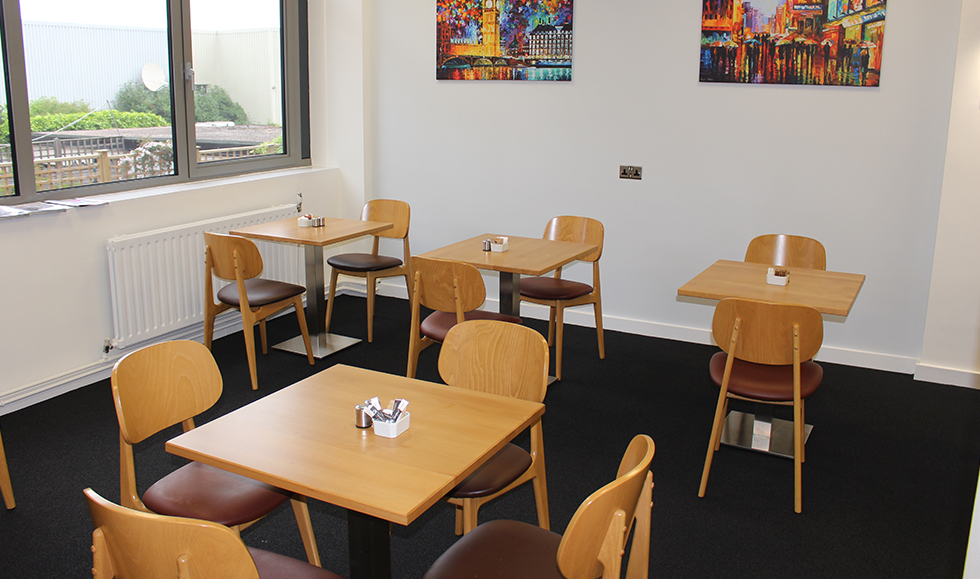 We were really pleased to work on this project and wish "The Hub Cafe" every success in the future. Who knows, we may even be in ourselves sometime soon, as it's not too far away from Café Reality HQ!
Designer and Project Manger: Jake Tucker
Email: Jake.tucker@officereality.co.uk